Custom Algorithm Execution
The properties and methods in your automation algorithm class define how the class interacts with the Automate button in the labeler app.
When you click Automate, the app checks each label definition in the ROI Label Definition and Scene Label Definition panes by using the checkLabelDefinition method defined in your custom algorithm. Label definitions that return true are retained for automation. Label definitions that return false are disabled and not included. Use the checkLabelDefinition method to choose a subset of label definitions that are valid for your custom algorithm. For example, if your custom algorithm is a semantic segmentation algorithm, use this method to return false for label definitions that are not of type PixelLabel.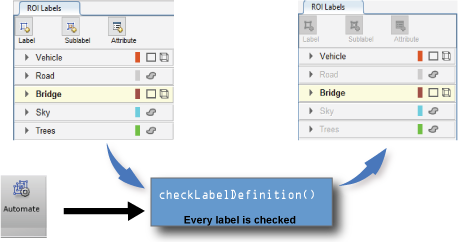 After you select the algorithm, click Automate to start an automation session. Then, click Settings, which enables you to modify custom app settings. To control the Settings options, use the settingsDialog method.
When you first run the algorithm, the app calls the checkSetup method to check if it is ready for execution. If the method returns true, the app calls the initialize method and then the run method on every image selected for automation. Then, the app calls the terminate method.
Use the checkSetup method to check whether all conditions needed for your custom algorithm are set up correctly. For example, before running the algorithm, check that the scene contains at least one ROI label before running the algorithm. Use the initialize method to initialize the state for your custom algorithm by using the image. Use the run method to implement the core of the algorithm that computes and returns labels for each image. Use the terminate method to clean up or terminate the state after the algorithm runs.